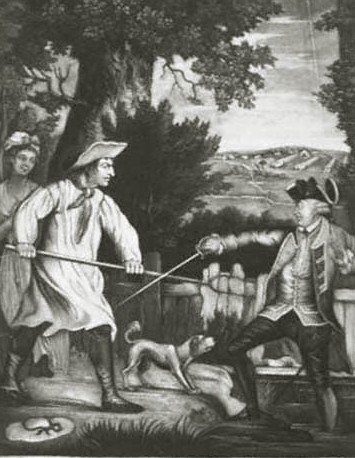 First,
this image to the left is
*NOT*
a hunting shirt- and is fit for wear over clothes while on the dung heap or a waggon. It is made of the same materials, and has some of the same shapes, but seriously, no matter how much folks want it to be, it just plain doesn't fit the period descriptions and images (most solidly being caped, fringed and "open before"). The origins of this early American garment are murky at best, and definitive documentation on that front is elusive. If you do an F&I impression, there are likely FAR better choices than this garment (like a coat/matchcoat/jacket and etc), or for that matter a shabby undocumented attempt at "backdating" it by omitting the capes/fringe or any of the other elements that make a hunting shirt unique. Instead of making something up, why not copy and actual garment that fits with period descriptions and images?!? Although possible, there doesn't seem to be any concrete evidence of a pull over "hunting shirt" in the 18th century, so smart money goes with something that is split down the front.
Neal Hurst's Honors Thesis is a
must read
on the topic:
Trumbull on the topic:
Sir,
You expressed an apprehension, that the rifle-dress of General Morgan may be mistaken hereafter for a wagoner's frock, which he, perhaps, wore when on the expedition with General Braddock; there is no more resemblance between the two dresses, than between a cloak and a coat; the wagoner's frock was intended, as the present cartman's, to cover and protect their other clothes, and is merely a long coarse shirt reaching below the knee; the dress of the Virginia rifle-men who came to Cambridge in 1775, (among whom was Morgan,) was an elegant loose dress reaching to the middle of the thigh, ornamented with fringes in various parts, and meeting the pantaloons of the same material and color, fringed and ornamented in a corresponding style. The officers wore the usual crimson sash over this, and around the waist, the straps, belts, &c., were black, forming, in my opinion, a very picturesque and elegant, as well as useful dress. It cost a trifle; the soldier could wash it at any brook he passed; and however worn and ragged and dirty his other clothing might be, when this was thrown over it, he was in elegant uniform.

I remember to have seen in Connecticut a regiment of militia drawn up for review, of which the battalion companies had adopted this rifle-dress of white linen with black straps and hats. A grenadier company had been selected of the tallest and finest men, and dressed at considerable expense in a handsome uniform of blue coats and scarlet under-dress. I first saw the regiment at the distance of half a mile; the grenadiers appeared small, and the rest of the regiment seemed grenadiers; the cause is obvious - the rifle-dress is loose, and the sleeves above the elbow loose like the ladies' dresses of the present day, and the figure of course appears larger than if dressed in a coat with tight sleeves and body; besides which, opticians teach us that white objects always seem larger than objects of the same size, but of any other color.
J. T." p. 18.
Longacre, James B., and Herring, James; "The National Portrait Gallery of Distinguished Americans." Volume III. Henry Perkins, Philadelphia. 1836. [Google Books.]
By 1768, ads in the Va Gazette indicate that Virginians knew what a "hunting shirt" was, although correspondence in the Washington papers makes a strong case for this apparently Virginia born garment being fairly unknown outside of areas north of Pennsylvania. Incidentally, Pennsylvania broadsides from 1775 proclaim that
"The Virginian back Woods Men have a very good Reason for their hunting shirts, for as they wear no Breeches, Decency requires that their upper Dress should be of this Form "
As with anything else, step #1 is to do your homework first to ensure that such is the *right* (or appropriate) garment for your who/what/when/why- for our purposes (Western Va ca 1768-1783) we have that nailed down as a fairly common garment (the image is Blodgett in Rifle Dress by Trumball, at the VMFA).
For a legit RevWar period hunting shirt pattern in a low priced book see Sketchbook '76 by Robert L. Klinger (also patterned in Katcher's excellent Uniforms of the Continental army):
http://www.trackofthewolf.com/categories/partdetail.aspx?catid=4&subid=22&styleid=62&partnum=book-sb76
Further info on this particular shirt can be found here:
http://books.google.com/books?id=jSBDlSw_VtMC&lpg=PA70&ots=N58-PJcJIZ&dq=duryea%20hunting%20shirt&pg=PA70#v=onepage&q=duryea%20hunting%20shirt&f=false
Numerous vendors sell both unbleached/natural linen (aka osnabrigs aka BROWN LINEN) and white linen (which is what three of the four surviving shirts are made of)- this seems to be a common material for these things in the period. Manufactured pre fab 'fringe' that matches the originals is hard to come by, for many applications, unraveling a two inch or so strip of the same fabric used for the body is a good way to go for fringe.
A few quotes on the subject can be found here:
http://www.oldetoolshop.com/trekking/library/huntingshirts.html
and some references to colors here (don't be afraid to use WHITE or natural undyed linen):
http://www.oldetoolshop.com/trekking/library/shirtcolors.html
Get three or four yards and wash and iron it first.
These folks usually stock a good selection of appropriate linen:

http://www.burnleyandtrowbridge.com/
Period descriptions and surviving garments show a few variations existed- amount, construction and location of fringe, some had pockets, wrist closures (buttons and loops vs sleeve buttons and etc) and some appear to have had ties in the front or were closed with a belt.
Original Hunting shirt on view at Fort Pitt, note dark spots showing remnants of woolen ties
If you are a total hand sewing neophyte, you might want to go through Gilgun's
Tidings from the 18th century
.
after that, read this:
Neal Hurst on Hunting shirt construction
Speaking very broadly, you need to make a normal 18th c style body shirt that is split down the front, caped and fringed (some of the original shirts do exhibit subtle nuances that differ). Original shirts were sometimes folded over at the shoulder line or in some cases folded at the sides. Most shirts would have been made of a fairly narrow linen (26-32 inches or so wide). Additionally, you might want to pleat the forearms and cover that transition line with fringe after stitching them down, as seen in the picture below.
The sleeve pleating can be applied either before or after the wrist band (cuff) has been finished, but the majority of surviving shirts appear to have had this applied after the cuff was completed.
As with a lot of this stuff, DIY is cheaper, and you are learning a period hands on activity- or you can do what I did when I first started and spend hard earned money on something that is quick and easy and not right at all. Another option (likely the BEST way to go as he has examined more originals than anyone I know of ) would be to take one of the great detail heavy
Hunting shirt workshops
with Neal Hurst.