Now that we have our butcher or
"scalping" knife
sorted out, we ought to make a period correct scabbard for it. For the background on early European knife scabbard methods and materials, I really highly recommend reading this book:
http://books.google.com/books?id=IjiAAAAAIAAJ&q=medieval+london+knives+and+scabbards&dq=medieval+london+knives+and+scabbards&hl=en&ei=mWR2TcbkOcHagQex1p3JBQ&sa=X&oi=book_result&ct=result&resnum=2&ved=0CEUQ6AEwAQ
From that survey, most of the knife scabbards were out of 5oz calfskin, sewn with linen thread. All well and good, but what does that have to do with 18th century scabbards? Quite a bit once we look at some of them from archaeological digs as they are almost always made in the same center seam fashion!
But don't take my word for it, check out the two Dutch scabbards from the Amsterdam (sunk 1748):

http://books.google.com/books?id=wU7EOQAACAAJ&dq=wreck+of+the+amsterdam+marsden&hl=en&ei=Y2V2Tez5EI74gAe2k4nZBQ&sa=X&oi=book_result&ct=result&resnum=3&ved=0CDQQ6AEwAjgK
or the other examples from the Elizabeth and Mary (1690 The Siege of Québec... The Story of a Sunken Ship)
http://pacmusee.qc.ca/en/collections-and-research/publications/exhibition-publications
Others were found at Fort Ligonier (1750s-60s), or the Machault (1760). Originally knives of this type were sold both with and without scabbards. The Fort Ligonier example is described as crude, and considering many of these were shipped by the cask and sometimes by the hogshead without scabbards a somewhat "home made" look isn't necessarily a bad thing.
For our repro, the first step is to put aside some rusty nails into a jar of vinegar for a week or so (this will be our leather dye). Also gather some paper, linen thread, beeswax, scissors, two needles, an awl, a knife, a punch and some oil for the blade and leather.
Step two is to make the pattern. Trace the knife on scrap paper and then turn it over so that it is symmetrical. Add 1/4 inch or so to each side and taper to almost meet the actual tip of the blade (say 1/16 extra here).
Wipe down your veg tan leather with the vinegar and iron dye, and apply a couple of coats until it is properly black'd. Then throw a little oil on it and set by to dry.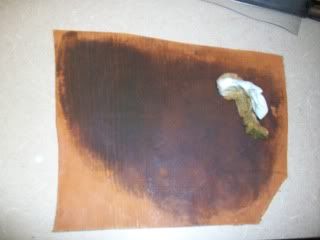 At this point do any decorative work you want on the leather. In this case I scored some decorative lattice work designs to match the look of one of the scabbards from the Amsterdam.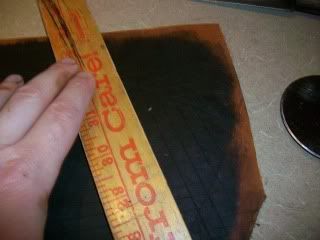 Cut the leather out to the new paper pattern:
pre punch the holes for the stitching
Wet the leather so it is pliable (warm water from the kitchen sink was used here) and wrap around your knife (which you will want to slather in oil and or protect with tape as some folks do)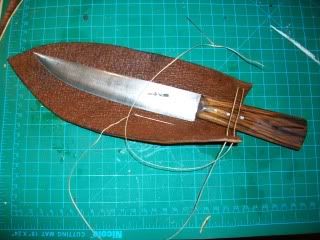 saddle stitch the seam with your waxed linen thread (I would also recommend running the thread through some black ball if using black dyed leather, I skipped that here so the stitching would be more visible).
continue down the side of the seam
work down to the tip, and close off at the end, hopefully yours will look a bit neater than this one- there is still some time to manipulate the leather while it is wet.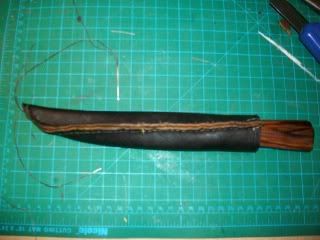 Trim the excess off and take a bit of bone, antler, hard wood or plastic and burnish down the seam ends- then apply a bit of your dye or black ball to the edge.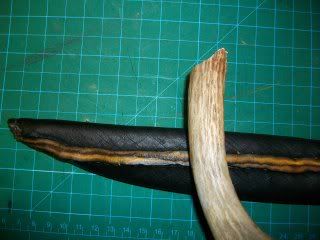 punch two or four holes for a thong-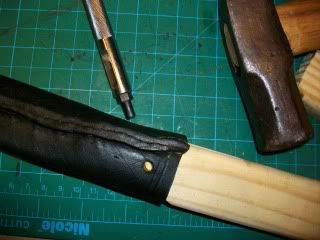 lace in the thong and you are done!
I suggest hitting the sheath with some neat's foot oil and blackball once dried and formed to the blade.