One of the documented shelters folks traveling in the Va Backcountry used was the tent (improvised shelters will be covered in a later installment). Sadly, the majority of tents available on the commercial market are generally machine sewn and made of cotton canvas vs the linen fabrics of the 18th century (not to mention the fasteners and other details that are way off). But do not despair, this is certainly a DIY project if you have the time and materials!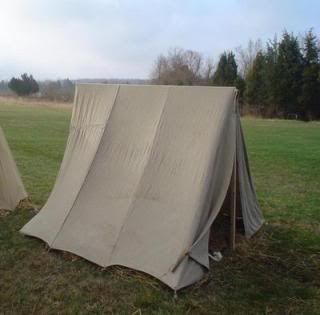 A reproduction linen tent in the field.
Byrd's
History of the Dividing Line Betwixt Virginia and North Carolina
http://docsouth.unc.edu/nc/byrd/byrd.html
While the surveyors were thus painfully employed, the commissioners discharged the long score they had with Mr. Wilson, for the men and horses which had been quartered upon him during our expedition to Coratuck. From thence we marched in good order along the east side of the Dismal, and passed the long bridge that lies over the south branch of Elizabeth river. At the end of 18 miles we reached Timothy Ivy's plantation, where we pitched our tent for the first time, and were furnished with every thing the place afforded.
Thomas Walker's Journal
(1750)

http://www.tngenweb.org/tnland/squabble/walker.html
4th. I blazed several trees four ways on the outside of the low Grounds by a Buffaloe Road, and marked my name on Several Beech Trees. Also I marked some by the River side just below a mossing place with an Island in it. We left the River about ten O'clock & got to Falling Creek, and went up it till 5 in the afternoon, when a very Black Cloud appearing we turn'd out our horses got tent Poles up and were just stretching a Tent, when it began to rain and hail and was succeeded by a violent Wind which blew down our Tent & a great many Trees about it, several large ones within 30 yds. of the Tent. we all left the place in confusion and ran different ways for shelter. After the Storm was over, we met at the Tent, and found that all was safe.
Dunmore's War Va militia tent use c1774
:
http://books.google.com/books?id=zOJEAAAAIAAJ&printsec=frontcover&dq=documentary+history+of+dunmore%27s+war&hl=en&ei=DNuITcOrAcWV0QGV4LCBDg&sa=X&oi=book_result&ct=result&resnum=1&ved=0CDAQ6AEwAA#v=onepage&q=tent&f=false
Nourse KY ca 1775
(
along with our buddy Creswell):

http://www.noursefamily.net/journals/JAH-VolumeXIX-Number2-1925.pdf
For a compilation of 18th century tent info check out this link (and let me say again, thanks to all who pitched in on this!):

http://www.scribd.com/doc/51258154/THE-TENT-ARTICLE#source:facebook
Fabricating a reproduction common tent that is much better than the machine sewn cotton canvas jobs commonly sold is easy enough with this info and a bit of patience. Happy tent making!